There's little doubt the most iconic acoustic guitar brands in the world are to be found in the United States. But venture north just a few hundred miles and you'll find the iconic Canadian forest tonewoods many of these companies rely upon, along with several Canadian acoustic guitar brands producing exceptional instruments and punching well above their weight in terms of value despite bucking the ever-growing trend to manufacture offshore.
In today's article, we're going to take a closer look at 10 Canadian acoustic guitar brands you should be aware of.
Top Canadian Acoustic Guitar Brands
Godin
Seagull
Simon & Patrick
Norman
LaPatrie
Art & Lutherie
Larrivée
Boucher Guitars
Northwood Guitars
Yanuziello
---
Guitabec Inc. (Godin Guitars)
Producing guitars under 6 brand names, including Godin, Seagull, Simon & Patrick, Norman, LaPatrie, and Art & Lutherie, it would be remiss not to begin with Godin guitars.
With head offices in Montreal, and utilizing 5 factory locations in Quebec and 1 in New Hampshire, Godin is easily the largest manufacturer of guitars in Canada, and one of, if not the largest guitar manufacturer in all of North America.
Founded by Robert Godin over 50 years ago in La Patrie, Quebec a rural municipality of around 750 residents, half of which happen to build guitars, the company is currently run by sons Simon and Patrick.
The Godin brand (and sub-brands) are many players' hidden gems, especially popular with working musicians and known for offering superb value.
The company carved out its niche by identifying gaps in the market through the utilization of innovative manufacturing blended with many of the more traditional aspects of luthiery, to produce a range of guitars previously unfulfilled.
We'll discuss the sub-brands of Godin below, but the guitar most commonly associated with Godin the brand is the Multiac series of hybrid guitars.
Hybrid in the sense that these guitars have multiple outputs, including a standard 1/4″ jack, along with a 13-pin MIDI output for utilizing a guitar synth, allowing the guitarist to utilize synth and acoustic sounds at the same time.
A unique thin body available in both nylon and steel-string, they are distinguishable by the slotted headstock and lack of primary soundhole, replaced by a series of smaller soundholes near the top shoulder of the guitar, which is also home to the Multiac preamp and eq sliders.
You can find out more about Godin guitars, including the Multiac series by clicking here.
---
Sub Brands of Godin Guitars
We'll take a closer look at each of the individual brands under the Godin name below:
Seagull
Founded in 1982, Seagull is one of the more internationally recognizable acoustic guitar brands under Godin.
Operating out of La Patrie, Quebec, the company's ethos is to take the essential components of the best hand-crafted guitars in the world and replicate these features into affordably priced guitars while utilizing sustainable, locally sourced materials.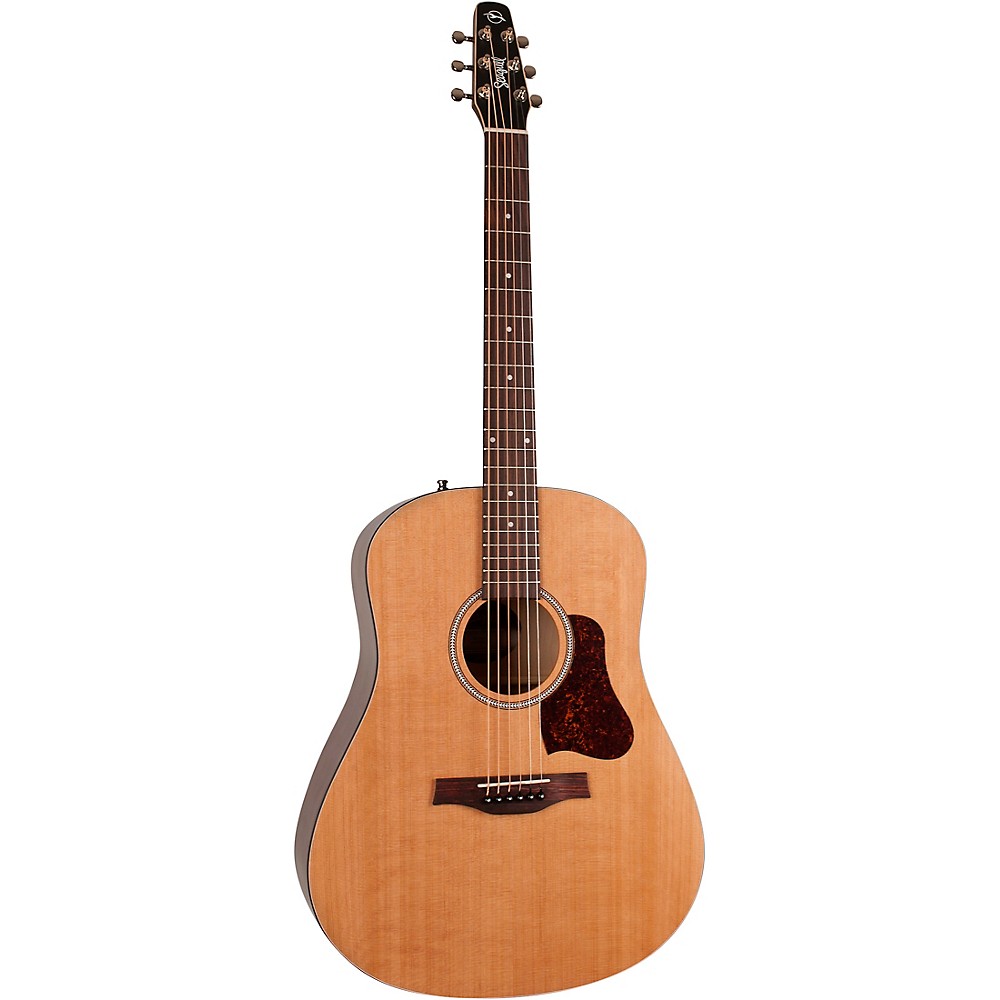 And that's exactly where Seagull fits into the acoustic guitar landscape. 
They are also one of the few guitars manufactured in North America that remain an affordable option for working musicians.
Lightweight construction and innovative design are the hallmarks of Seagull Guitars. From the narrow, contoured headstock (the tuning pegs line up directly with the nut slots, increasing tuning stability).
With a super wide neck and generous string spacing, a double locking truss rod, and a pressure-tested compound curved soundboard Seagull wasn't looking to build another Martin.
As a result, Seagull guitars offer a distinct look, feel, and sound.
Many guitarists rate Seagull and in terms of bang for buck are one of the best value guitars available.
What is pressure testing?
a method of pre-determining the strength of the wood used for the soundboard of the guitar.
Click here to read more about Seagull Guitars.
---
Art & Lutherie
Godin launched the acoustic guitar brand, Art & Lutherie in 1995, targeting the entry-level market for acoustic guitars.
Handcrafted in Canada, but more affordable than Seagull,  Art & Lutherie Guitars are renowned for excellent build quality, comparing favorably to guitars worth considerably more. Just check out some of the reviews.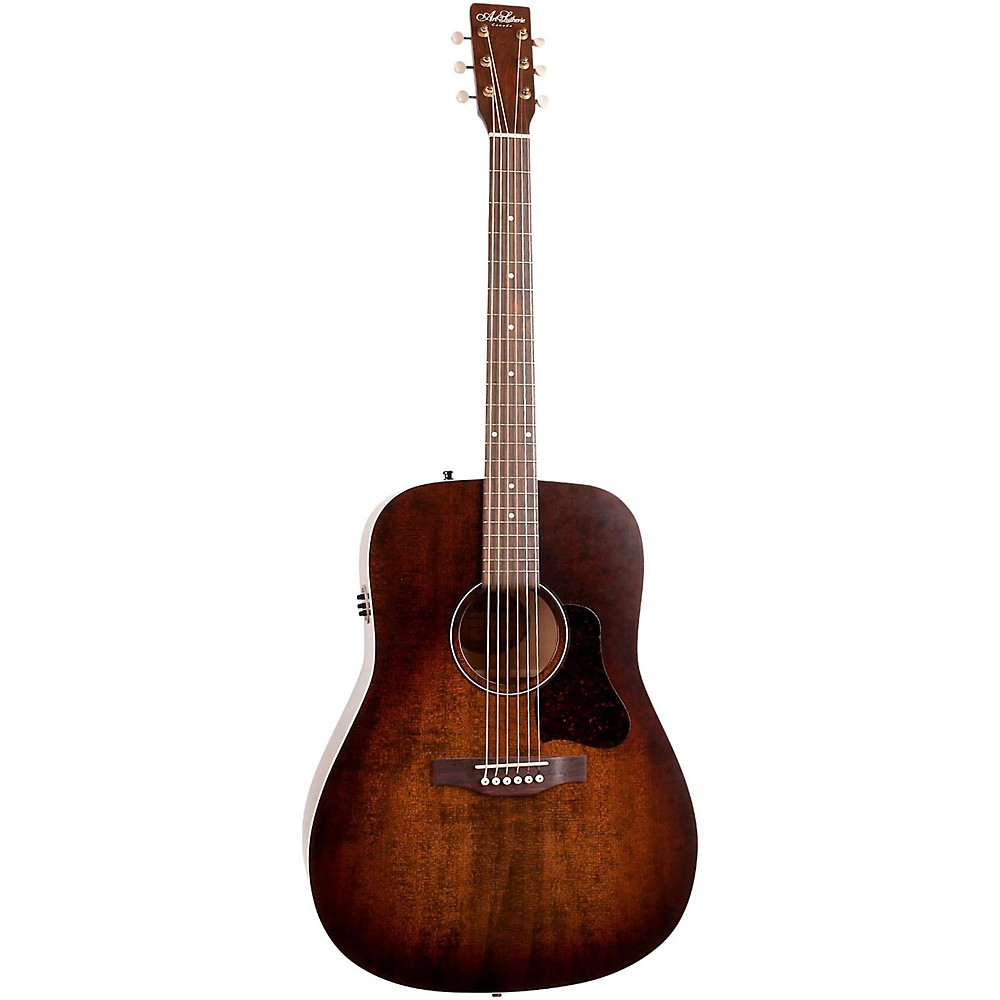 Featuring solid Cedar, and Spruce tops on the majority of their models, the back and sides are typically triple-laminated Wild Cherry.
The company currently makes a Dreadnought (Americana), Concert sized guitar (The Legacy), and a Parlor (Roadhouse). Recently Art & Lutherie introduced an imported line of these same 3 models at a lower price point.
You can read more and see the full range of Art & Lutherie guitars by clicking here.
---
Simon & Patrick
Named after Robert Godin's sons, Simon & Patrick guitars place a strong focus on traditional acoustic guitar design. 
Featuring solid Spruce and Cedar tops, all Simon & Patrick guitars feature Indian Rosewood bridges and fretboards. A 16″ fingerboard radius. Tusq® nuts & saddles. While the back and sides are, for the most part, laminate construction, made with a three-ply hardwood, mostly Cherry, Mahogany, and Rosewood.
If you like Seagull guitars, but prefer a narrower string spacing be sure to check out Simon and Patrick Guitars.
---
LaPatrie
Named after the village of La Patrie, Quebec. La Patrie has since been rebranded as the Godin nylon series of guitars.
Prior to this, from 1982 Le Patrie guitars produced classical nylon string guitars. And, like many of the brands under Godin, garnered a loyal following in the process.
Features include pressure-tested solid cedar tops, custom polished finish (thinner, less tone smothering), double-locking truss rod, and intricate rosettes, topped off with cream binding, Tusq nuts, and saddles.
Unlike most classical guitars, the necks are radiused which will usually make the transition from acoustic or electric to classical easier.
---
Norman
While Norman Guitars are the first line of guitars Robert Godin helped establish, interestingly the brand was only acquired by Godin in 1989, 17 years after its inception.
Confused? here's a very brief summary.
Robert Godin, at the time a cabinet maker/carpenter, met Norman Boucher of Norman Guitars, also in La Patrie, and started working together in 1972 producing guitars that were popular in their native Quebec.
However, the two parted ways in 1980, with Godin working on what would eventually become Seagull and La Patrie Guitars.
However, after burning to the ground in 1980, followed by economic recession during 1981 and 1982, Normand Boucher lost the reigns of the business in 1986 and three years later was acquired by Robert Godin. The rest, as they say, is history.
Nowadays Norman offers 8 different acoustic models and rebranded many of these in 2020 with modernized design features.
---
Larrivée
Wondering where you've heard the Larrivée name before? It might be from space.
That's right, When astronaut Chris Hadfield picked up his Larrivée P-01 Parlor guitar and fittingly played (and live-streamed) 'Space Oddity' by David Bowie from the international space station in 2013, it was the first guitar played in space, and for many their first impression of Larrivée acoustic guitars.
Galactic guitars aside, Larrivée, is one of those companies with a foot firmly planted in the more traditional aspects of guitar building, including an insistence on all solid wood construction (no laminates, or engineered timbers) and an incredible knowledge of tonewoods, coupled with less traditional manufacturing methods including automated production.
But it's this unique approach that allows the company to deliver on its promise of affordable luxury.
Larrivée, a family-owned company, is the brainchild of Jean Larrivée, a highly respected master luthier who's been in the game since 1967, and taught, or influenced many luthiers operating out of Canada, including John McQuarrie of Northwood Guitars.
Larrivée produces guitars out of California nowadays, but after being first established in Canada (Vancouver) and producing guitars in Vancouver up until 2013, and with a rich history harking back over 50 years the company still considers itself Canadian.
And despite being in his mid 70's Jean Larrivee is still on the tools, along with his family (Sons, Matt and John) and 25 staff.
Check out the range of Larrivee guitars here: https://www.larrivee.com/series
---
Yanuziello Guitars
Born and raised in Toronto, Joseph Yanuziello of Yanuziello guitars was first drawn to the guitar after seeing Ry Cooder perform in his local Toronto.
After attending art college, Joseph went on to build his first guitar in 1979, a flat-top acoustic guitar.
His first business might have begun as a furniture store with Joseph dabbling in guitar production, but after his initial guitars attracted attention Joseph Yanuziello began focusing solely on guitars in 1999 and the rest is history.
Currently producing Mandolins, Resophonics, Hawaiian Guitars, Electric, and Acoustic Guitars, a quick look at Yanuziello Guitars' range of instruments shows a diverse range of instruments and styles produced, with a distinct pre-war influence.
Yanuziello produces a grand concert, 00, and an OM-size acoustic guitar.
Click here to see the full range.
---
Boucher Guitars
Boucher guitars are the brainchild of Robin Boucher, nephew of Norman Boucher (original founder of Norman Guitars).
While the company has only been around since 2005, the Boucher name is synonymous with the Canadian acoustic guitar industry.
Based in Quebec, Boucher guitars reside in close proximity to the largest red spruce forest in North America (commonly referred to as Adirondack Spruce, due to being local to the Adirondack region).
Under the guidance of Robin Boucher, Boucher guitars are gaining presence in Canada and Europe, and more recently in the United States.
Not only does Boucher make fine hand-crafted acoustic guitars, but they're also a supplier of Red Spruce tops to a number of acoustic guitar brands.
I recall first hearing a Boucher (pronounced boo-shay) on Tony Polecastro's Acoustic Tuesday, where he reviewed the Boucher Studio Goose SG-41-C in 2019. A stunning guitar visually, the Studio Goose SG-41-C has great projection, warmth, and balance and despite having great bass presence had a distinct clarity, great for fingerstyle players.
As a company, Boucher pioneered the use of torrefied Red Spruce soundboards, which as stated on their website is believed by some to be "the most significant innovation in the world of high-end acoustic guitar in the last 40 years".
Divided into five distinctive series, (The Studio Goose, Bluegrass Goose, Heritage Goose, 12 string series, and Signature Series) most models can be easily customized with Boucher's Option Packs. With just the right amount of customization, all of these guitars share a similar minimalist aesthetic that exudes class.
Oh, and if you are wondering about the connection with Geese? The Adirondack region is also a resting place for migrating snow geese.
What is Torrefaction?
A method of advancing the aging process of wood. It is said that when viewed under a microscope, torrefied wood looks much like wood that has been cured over decades. The process involves drying/heating wood in an oxygen-free environment. This removes sugars, resins, and other resonance-damping components found within the cell structure of the wood. It is thought to remove up to 30% of the mass of wood, without affecting its strength, making for a more resonant yet still strong soundboard material.
---
Northwood Guitars
John McQuarrie, the owner of Northwood Guitars, built his first guitar at age 6, out of a tissue box and paper roll.
A skilled woodworker, John built his next acoustic guitar in high school and continued building (and repairing) guitars before being hired by Jean Larrivee of Larrivee Guitars), and subsequently working with Larrivee guitars for 7 years (while continuing the repair instruments on the side) before pursuing his own company, Northwood Guitars in Langley, British Columbia.
Currently operating out of Sorrento, British Columbia, Northwood guitars have established dealers throughout the world.
Current models offered include a mini jumbo, 12 and 14 fret 00's and 000's respectively, and auditorium, orchestra, and dreadnought models.
Featuring all solid wood bodies, just like his mentor Jean Larrivee, Mahogany one-piece necks, matched wood bindings and bone nuts, and saddles, Northwood guitars typically work with Brazillian and Indian Rosewood, Walnut, Cocobolo, Flamed and Quilted Maple, Mahogany, and Ziricote for back and sides. And, Adirondack (Red Spruce), Sitka Spruce, and Western Red Cedar tops.
While production numbers are low, Northwood guitars have a small but loyal following and John McQuarrie is a highly regarded luthier.
---
Other notable mentions:
Beardsell Guitars
Greenfield Guitars
Prestige Guitars
Morgan Guitars
Sergei de Jonge
Ted Thompson
Why Are Canadian Guitars Less Expensive?
While brand bias almost certainly plays a role, an abundant local supply of some of the best tonewoods in the world helps keep production costs down. There's also the fact that Canadian products sold into the US, up until 2020 did not incur a tariff thanks to NAFTA (North American Free Trade Agreement).
Summary
Often overlooked in favor of their US counterparts, the Canadian acoustic guitar brands listed above are well worth a closer look, considering each produces guitars locally, utilizes locally (and internationally) sourced tonewoods, and as a general rule offers outstanding value.
If wondering where to start, keep in mind that Seagull guitars, particularly the S6, are arguably the best value acoustic guitar available, bang for buck. And if you have a few more dollars, consider Larrivee, one of the finest acoustic guitar makers in the world.
If you're a Canadian guitar manufacturer and wish to be included please get in touch.